Simple Chocolate Halloween Cupcakes
Halloween, the time of year when spooky and sweet delights take center stage!
While Halloween cupcakes come in various flavors, chocolate has consistently been a crowd-pleaser. Its rich, deep flavor and versatility make it an ideal canvas for creative decorations and spooky themes.
Baking Tips for Perfect Chocolate Halloween Cupcakes
Precise measurements are crucial in baking. Use proper measuring cups and spoons to ensure your cupcakes turn out consistent every time.
Allow ingredients like eggs and butter to come to room temperature before use. This ensures a smoother batter and even baking.
Sifting the dry ingredients not only removes lumps but also aerates the mixture, resulting in a lighter, fluffier cupcake.
Avoid overmixing the batter, as it can lead to a dense cupcake. Gentle folding techniques are often best for achieving the desired texture.
Fill cupcake liners about two-thirds full to prevent overflowing during baking.
Creative Decorating Ideas
Chocolate ganache, with its velvety texture and glossy finish, is a classic choice for topping your Halloween cupcakes. It adds a touch of elegance to even the spookiest designs.
Let your imagination run wild with Halloween-themed decorations such as miniature witches' hats, bats, and ghosts. These can turn your cupcakes into edible works of art.
For a touch of glamour, consider dusting your cupcakes with edible glitter or incorporating colored sprinkles in Halloween hues.
Inject some playfulness into your cupcakes by using candy eyeballs for a watchful gaze or gummy worms creeping out from the frosting.
Use food dye for different colourful frostings.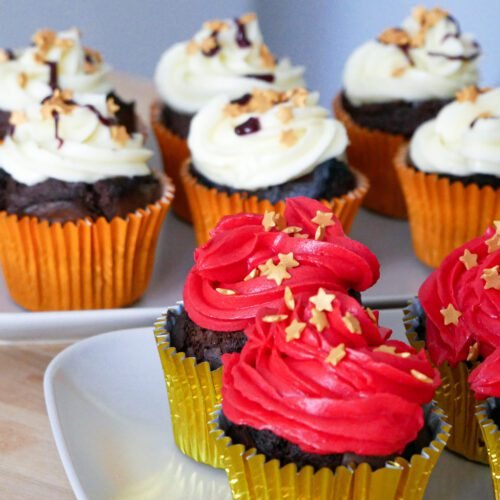 Chocolate Halloween Cupcakes
Ingredients
For cupcakes
3

eggs

10

g

vanilla sugar

250

g

sugar

50

g

butter

2

full tbsp

sour cream

200

g

flour

1

tsp

baking powder

4

tbsp

cacao powder

100

g

black chocolate
For buttercream frosting
200

g

butter

200

g

powdered sugar

1

tbsp

vanilla extract

4-5

tbsp

heavy cream
Instructions
Crack eggs into a mixing bowl.

Add sugar and vanilla sugar to the same bowl and mix with a hand mixer.

Melt the butter in a pot. Once it's liquid, add the sour cream and mix together until in becomes one mass.

Add the butter-sour cream mixture to the egg-sugar mixture. Blend with a mixer.

In a separate mixing bowl add flour, baking powder and cocoa powder. Mix with a spoon.

Preheat your oven to 180 degree celcius.

Melt the chocolate and add it to the batter. Mix well.

Take your cupcake tray and put in the cupcake liners.

Fill the cupcake tray with the batter. Fill 2/3 of batter in each spot.

Bake in the oven for about 20 minutes.

While the cupcakes are baking prepare the buttercream frosting. Take a mixing bowl and add room-temperature butter. Whisk it well.

Add the powdered sugar and mix it again.

Add vanilla extract and heavy cream. Now blend it with a hand mixer until you reach the frosting consistency.

Separate the frosting into two separate bowls and add red food dye to one of them. Mix the dye into the batter.

Remove the cupcakes from the oven and let them cool down.

Before adding the frosting I like to cut the tops of the cupcakes a little. For me, that way the cream stays on the top better.

Use the frosting bags to put the buttercream frosting on the baked cupcakes. 6 cupcakes with the red frosting and 6 with the white one.

Add little splashes of red food dye on the 6 cupcakes with the white frosting.

Sprinkle all the cupcakes with some sugar sprinkles. Enjoy!
Notes
The thing about the white frosting cupcakes with red dye on top is once you bite into them your teeth turns red for a short while, which is really fun for the kids! 
Also keep in mind that if you keep them overnight in the fridge the red dye will start absorbing into white frosting which makes the cupcakes look even better for Halloween theme.
---
---